After all the buzz about Mara's Curly Hair Tips (and the fact that those pictures are now floating around all over on Pinterest), our readers have been clamoring to know about my Super Straight Hair Tips for Men. Listen to this reader's comment after I tried to post about something meaningful: "Stop teasing us with this crap. I want to know how you do your hair!" Since those fateful words, our inbox has been cluttered with demands to know the secret to my perfectly trimmed hair.
Wait no longer and behold the glory of…
The Flowbee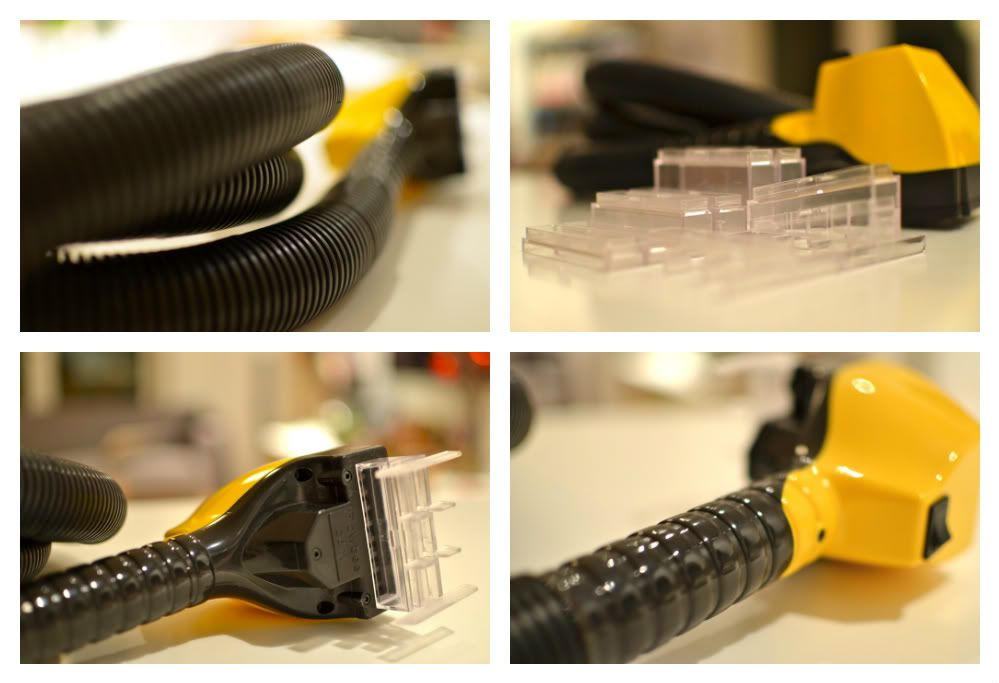 Maybe I should send them these pics I took so they can update their marketing material
I have wanted a Flowbee for years. That seed was probably planted some time in the 80s when as a little boy I was fascinated by the idea of hair clippers attached to a vacuum. Does it get much cooler than that!?!? (I almost peed my pants laughing as I watched this snippet on youtube…please don't judge too quickly just because this commercial is so awesomely bad.) Ideas like that are the reasons all boys seem to, at one point or another, entertain the idea of being an inventor, to come up with the next great idea like the Flowbee! Hyperbole aside, this oft ridiculed gadget stayed in the back of my mind as the answer to all of the bad haircuts I'd ever received.
My life before the Flowbee…
I've had a lot of really bad haircuts since I moved away from Utah and from my longtime stylist/friend. Part of that may be because I couldn't imagine paying more than $15 for a cut (one could argue that's like complaining that my $1 Taco Bell Burrito isn't nearly as good as a burrito from Cafe Rio or Chipotle), but my stylist/friend would tell you it's more likely because my hair is really annoyingly difficult. It's so straight, that even the slightest mistakes are easily noticeable…you can see every single slip of the scissors written all over my fluffy-haired head. One solution would have been to just cut it shorter with clippers, but that wasn't very practical either, since not only is my hair really straight, but the shorter it is the more prone it is to stick straight off my head in a perpendicular fashion. No thank you :). I always dreamed of a way to get scissor-cut length, balanced by clipper symmetry and evenness. Deep down I knew that the Flowbee from the infomercials of my childhood was the answer to all my problems.
Who wouldn't think that with advertising like this?
So Why'd You Wait So Long?
In order for the Flowbee to work properly, you've got to have a vacuum with at least reasonable suction power. That was something I never really had. Oh how I often entertained the idea of buying a $500 Dyson vacuum, even though I was living in some 700 square foot apartment that didn't even have carpet, just so that I could buy a Flowbee and enjoy perfect haircuts. I was one really-good-sale away from ordering that Dyson so I could make my Flowbee dreams a reality. That's about the same time that I met Mara. At some point in those emails in the first few weeks and months, when I honestly thought that Mara couldn't possibly get any better, she revealed to me she had a Dyson!!! Now I definitely had to marry this woman!
Anything but Inconspicuous Shipping…
I don't think it was more than one week after getting married and moving to New York that I used some of our generously gifted wedding money to order the Flowbee. At the time we were living pretty frugally…but I figured that I could recoup the price of $79.99 in just 4 months of use, so it was totally worth it. The best part was when it arrived. Usually the UPS guys just come to our building, ring the buzzer, and then leave all items inside the secure foyer downstairs. Sometimes they'll actually come up to your floor, but just leave the package outside your apartment. That day was different. The UPS guy made sure to hand-deliver this bad boy. You would too, once you see the way this thing was packaged! FLOWBEE was written on every side of the box in giant bold capital letters with a distinctive wind-like pattern blowing elegantly across. There was no discreet shipping with this product, they wanted everyone to know what was inside the box. Personally, I think that's why the UPS man decided to make a special in-person delivery, and it's probably why he had a stupid grin on his face as he handed it to me thinking "who actually buys this thing?", while I delightedly accepted the branded box with a triumphant smile that said "I do, that's who!"
I immediately opened the package, hooked it up to the Dyson, and gave myself a PERFECT hair cut. All in about 5 minutes…and with no mess! I immediately took a picture and sent it to my stylist back in Utah and told her I'd finally found the answer to my straight-hair woes. Since that day I've saved myself over $300 in haircuts, and most importantly, I've saved myself from a whole lot of dissatisfaction.
My name is Danny. I'm a husband, a musician, a cook, a New Yorker, a blogger…and I'm a Flowbee Evangelist!